The Office is Dead… For Now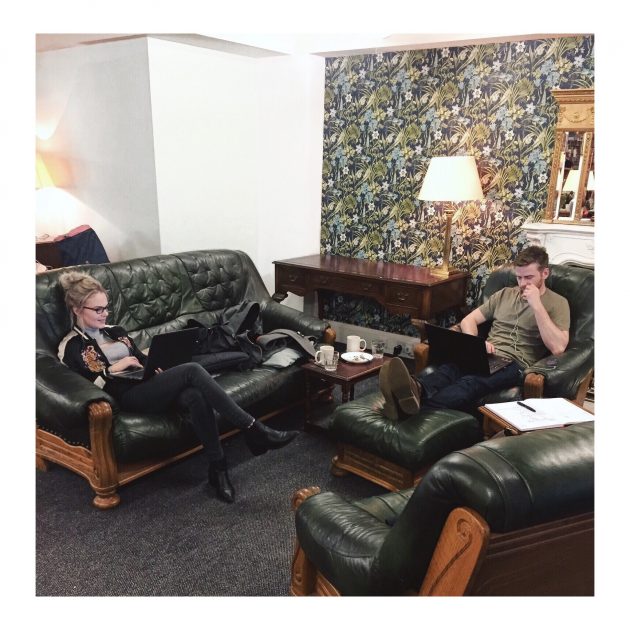 So, three weeks ago now, we decided to not renew our office with iHub and look for another home for Bespoke.
We loved our 12 months with iHub, being the first ones in and to see them grow and fill up the space with some amazing companies was a real thrill and we wish the guys all the best, but for us; it was time to change.
Now, normal companies would have put things in place before deciding this, and have a lovely new office ready to move into, but not us. Oh no, now the search begins!
Dave communicated this to the team and the overall feeling was not of fear, but that of excitement, and really feeling part of a team where we decide together our next move.
Short term, it was decided that we should look at pure roam working in some of the superb coffee shops and flexible working spaces in Manchester, so we wanted to give you a quick update as to where we have tried, where we love, and hopefully give you some helpful tips if you are looking to roam work in Manchester in the near future.
Ziferblat
Ziferblat is most definitely our favourite place to roam work in Manchester. Situated on edge street in the quirky Northern Quarter, it's a place like no other. Paying 8p per minute, you treat the place like your own home. With an array of cakes, cereal, biscuits and other yummy amenities, you simply make your own food and drink; which is all included within the price per minute (which is actually capped at a cost of £20 per person a day); and clean up after yourself.
It's a chilled area, with free wifi and incredibly comfortable seating. It's one of the few places we have consistently come back too, and could easily spend all day in, as you have maybe already seen from our regular tweets @BespokeRG
Ezra and Gill
Another favourite of ours, Ezra and Gill is a very cool and fantastic place to spend your time and treat yourself to some great food and drink. With window seat hubs, super-fast wifi, and a dog friendly area, it's the perfect place to spend a day working, and getting your head down. There is also free, flavoured water that you can help yourself too, helping to keep caffeine levels under control, along with costs.
Malmasison
We only went once, and there's a reason why. It's safe to say for us, this isn't the best place to start your morning of roam working. It's a bit too dark, and has a very quiet, somewhat awkward atmosphere. We can't ignore the coffee – which was great, but just wasn't the place for us to roam work from. Maybe a more suitable place for a formal 1-1 business meeting?
Foundation
Foundation is another popular place for many to visit; with it's fast wifi, instagramable tea and a cool setting, it's a great way to start your day off. However, the seats are not the comfiest to spend a prolonged amount of time on, and we can't say we had the best experience with the staff (Soph got overcharged for her crumpet, which meant it was time to do the true British thing of not saying a word and to stomp out annoyed). We will, however, be returning as we've had other fantastic experiences at Foundation!
We've really enjoyed roam working in Manchester, and we're eager to try out more places! If you have anywhere that you would recommend, please leave us a comment below!