Is Flexible Working Beneficial?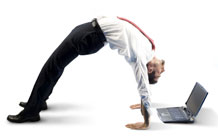 Flexible working is a concept that seems to be slowly working its way into the standard 9-5 job, once a thing mostly asked for by parents and carers, it's now being put into play by the everyday professional.
At Bespoke, we like to think we have a modern approach to the way we work in order to keep our employees motivated. Due to being a small company, we are lucky enough to be in the position to try out different approaches, such as giving the option for flexible working hours and holidays.
Do a set amount of hours and an office determine that an individual will work to the best of their potential? Or will people be more productive if they have the opportunity to have a change of scenery to finish a project, or work from home that certain day if it works better for them?
For bigger companies, this modern approach will be a difficult thing to incorporate as trying to monitor a large amount of employees in order to ensure the work is being done would be a time consuming task. Unfortunately, not everyone can be trusted to not abuse this opportunity, so could you say it's all down to the hires a company makes?
What do you think? If you were given the opportunity to have flexible working hours and holidays would you jump at the chance, or do you prefer having a standard working environment?