12 Days to Christmas, Film Countdown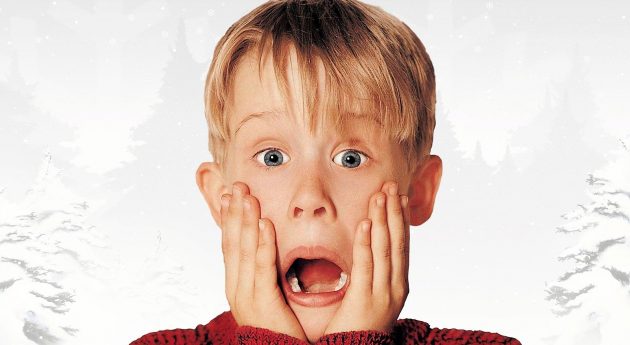 CHRISTMAS IS 12 DAYS AWAY!
The Christmas markets are in full swing, we're stuffing ourselves with mince pies, and the Christmas playlist is on repeat here at Bespoke. But, we thought there would be nothing better than a list of our top 12 Christmas films (one for each day leading up to Christmas) to get you even more festive!
Let us know if we've missed off a favourite of yours – or give us a tweet when you're watching one!
12. The Polar Express (2004)
Written, produced and directed by Robert Zemeckis 
This heart-warming story is about a young hero boy on Christmas eve who boards a powerful, magical train that's headed to the North Pole and Santa Claus' house. This fun, festive film may be last on our list – but we definitely recommend it!
11. Bad Santa (2003)
Directed by Terry Zwigoff 
A hilarious crime film following the lives of two thieves, who dress up as Santa and an Elf at Christmas. They pose as Santa attractions at malls, and then rob the stores at night; however, the films shows how one of the crooked robbers eventually turns his life around, and embraces the Christmas spirit.
10. The Santa Clause (1994)
Directed by John Pasquin
This comical, festive film is all about an average man, who becomes Santa.
After Santa falls off the roof due to an accident caused by Scott Calvin (Tim Allen), Scott then has to finish Father Christmas' trip and deliveries along with his young son. When they arrive at the North Pole, Scott learns that he must become the new Santa and convince those around him that he is, Father Christmas.
9. The Snowman (1982)
Produced by John Coates, and directed by Dianne Jackson
Whilst it may not be considered a film, The Snowman is an ultimate Christmas classic. It follows the journey of a young boy and the snowman he built, who comes to life. They play together, eventually flying to a snow covered forest where they meet other snowmen, along with Father Christmas.
8. A Christmas Carol (2009)
Directed by Robert Zemeckis 
Either this version, or the classic 1951 original, this film is a Christmas must. An animated retelling of Charles Dickens classic novel about a Victorian-era miser taken on a journey of self-redemption, by ghosts of the Christmas past.
7. Gremlins (1984)
Directed by John Dante 
Originally known as an American comedy horror, it's now more known as a Christmas film due to the festive setting. The film is about a young man who receives a strange creature as a gift, which then spawn other creatures who transform into small, destructive, evil monsters. An absolute must watch!
6. The Nightmare Before Christmas (1993)
Produces and conceived by Tim Burton, and directed by Henry Selick
This is an all time favourite for Sophie, as she's a massive Tim Burton fan. Following main character, Jack Skellington, as he discovers "Christmas Town" – he's from "Halloween Town" – and decides he wants to celebrate the holiday. Whilst it's a relatively spooky film, there are also quite a few comical scenes. A perfect film for those who like a bit of a twist on the traditional Christmas films.
5. Love Actually (2003)
Written and Directed by Richard Curtis 
An all time favourite at this festive period.
Starring Hugh Grant as the Prime Minister, it follows his love story with a member of staff – along with many other heart-warming, Christmas love stories. An absolute classic around Christmas time, this is definitely a Christmas film must!
4. The Grinch (2000)
Written by Jeffery Price and Peter S. Seaman and directed by Ron Howard 
Who can have a Christmas films list without having The Grinch on there? It pulls at your heart strings, whilst also being hilarious. The distinct characteristics of the Grinch, along with many of his sayings, are timeless.
3. The Muppet Christmas Carol (1992)
Produced and directed by Brian Henson 
This heart-warming film is based on the life of scrooge. The Muppets are loved by everyone. and this festive film was an instant hit when it was released in 1992!
2. Elf (2003)
Written by David Benenbaum, and directed by Jon Fareau
An obvious choice, this Christmas classic follows the journey of one of Santa's elves – Buddy (Will Ferrel), after he learns his true identity as a human. He travels to New York City to finally meet his biological father, spreading Christmas cheer, and chaos, as he goes.
1. Home Alone (1990)
Written and produced by John Huges, directed by Chris Columbus 
We all knew it. Home Alone has to be number one, and the film you watch on Christmas eve!
This hilariously cute film follows young Kevin McCallister (Macaulay Culkin) after being mistakenly left behind when his family fly to Paris for their Christmas holiday. After having a great time being on his own initially, Kevin soon has to fight off two burglars. It's comical, festive and perfect for the whole family to watch; who doesn't love this film!
We love Christmas here at Bespoke (except Tony – bah humbug), so it only felt fitting doing a Christmas film blog!
Let us know what you think in the comments below!